Share Hentai PD
to your friends
Collaboration Works Animes
Kitsune Musume no Ecchi na Oyado
Somewhere in the mountains, a little fox fell into a hunting trap. After lying there for several hours, she was on the verge of life and death. She was rescued by an unknown man (the owner of a mountain hotel), who happened to pass by. Several months passed, the fox's wounds healed and she felt indebted to that person. The fox wanted to repay the man for his kindness and mercy. She took on a human form and began to look for her savior. By smell, the fox found a hotel at a hot spring, which was in charge of the person who saved her. Entering it, she found her savior on his deathbed, he was about to die. His only concern was his hotel and he didn't want to talk about anything else. The fox, before his death, promises that by all means he will save his hotel from closing and restore order there. However, she understood absolutely nothing in the hotel business, and indeed in these human affairs. In search of at least some answer, she decides to search the owner's room. The fox finds a porn book about hot springs and decides to use it as a guide to action…
Rate: Rx - Hentai
Native: きつね娘のエッチなお宿
Aired: Aug 28, 2022 to ?
Duration: 20 min
Score: 6.13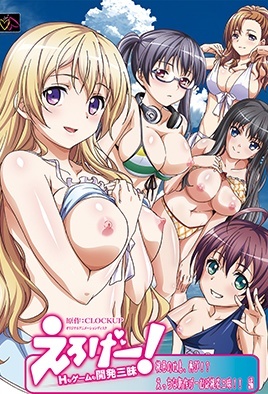 Eroge! H mo Game mo Kaihatsu Zanmai
Flower, a local game design studio, finds itself on the verge of shutting down. After its first release turned out to be a complete letdown, the studio is now struggling to make ends meet. The employees of this all-female company desperately need additional hands to help them finish a new project on time. Tomoya Mochizuki's passion is erotic games, or "erogames." He can neither write scenarios nor program, and his artistic skills are quite frankly terrible. However, owing to his massive experience in the field, Nene Sonono—Flower's director—decides to hire him as a consultant. The first thing Tomoya points out is that Flower's employees have no sexual experience; thus, their scenarios and sex scenes lack in-depth and firsthand expertise. Eager to learn and develop their professional skills, the girls embark on a crash course to grasp the essence of erogames. Under the attentive eye of Tomoya, they explore previously uncharted waters of sexual pleasure—all for the sake of the company's survival.
Rate: Rx - Hentai
Native: えろげー! ~Hもゲームも開発三昧~
Synonyms: 에로게 H도 게임도 개발 삼매경
Aired: Aug 26, 2011 to Mar 25, 2016
Duration: 30 min per ep
Episodes: 6
Score: 7.55