Share Hentai PD
to your friends
Anime Antenna Iinkai Animes
Ikusa Otome Suvia
The King of Hell had held Odin, the ruler of Norse gods, captured in the Land of the Dead with the help of Loki, the Trickster. The Valkyries failed to save him and ended up becoming sex slaves to the demons. As a trade to free himself, Odin had the river source to the World Tree sealed, which will destroy the whole world. But before that, Loki had Freya, Chief of Valkyries, captured to counter Odin's plot. In order to prevent the World Tree to fall, Loki have to find 2 keys which are protected by 2 invincible Valkyries—Sigurd & Suvia. And Loki turned his lustful attention on Suvia who was a Princess of Prishintia.
Rate: Rx - Hentai
Native: 戦乙女スヴィア
Synonyms: 전투처녀 스뷔아
Aired: Dec 22, 2007 to Aug 28, 2009
Duration: 27 min per ep
Episodes: 4
Score: 6.46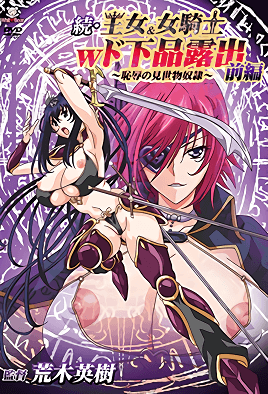 Zoku Oujo & Onna Kishi W Do Gehin Roshutsu: Chijoku no Misemono Dorei
The long-running war between superpowers ended with the victory of the Dominus Empire. The princess Elise, who led to the destruction of the Kingdom of Elstein, was called the worst lewd woman, as her moans echoed throughout Elstein.
The sex slave Elise existed as a symbol of the Probasanda of the Dominus Empire, but it disappeared one day … All the men of Elstein were purged, and the women became sex slaves. A sexual law was put into place that does not allow women to refuse the advances of orcs and soldiers at any time, and if they do, they will be purged on the spot. The kingdom has entered a dark age …
Anna, a female knight, leads a resistance unit, but was captured by Baldur. But there was a secret in the eyepatch covering her right eye …
Rate: Rx - Hentai
Native: 続・王女&女騎士Wド下品露出 ~恥辱の見世物奴隷~
Synonyms: Zoku Oujo and Onna Kishi W Dogehin Roshutsu
Aired: Oct 15, 2021 to Nov 19, 2021
Duration: 17 min per ep
Episodes: 2
Score: 5.33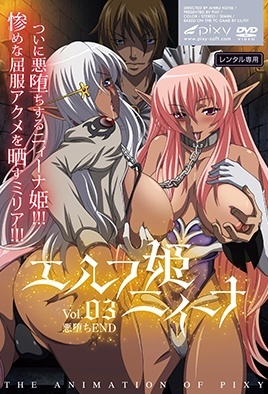 Elf Hime Nina
Kyle, the protagonist of this story, is one of the 7 heroes who defeated the evil overlord. After that battle he starts a conquest of the continent in order to unite the humans who live on it. Standing against Kyle is only his younger brother Syll, who is also one of the seven heroes. Kyle stole his throne, but failed to kill him. One day, another of the 7 heroes appears before Kyle. She is Nina, an elven princess. Kyle knows that Nina and Syll are lovers, and a dark desire begins to burn inside of him…
Rate: Rx - Hentai
Native: エルフ姫ニィーナ
Synonyms: Elf Princess Nina
Aired: Oct 29, 2010 to May 16, 2012
Duration: 28 min per ep
Episodes: 3
Score: 6.37