Share Hentai PD
to your friends
Milky Animation Label Animes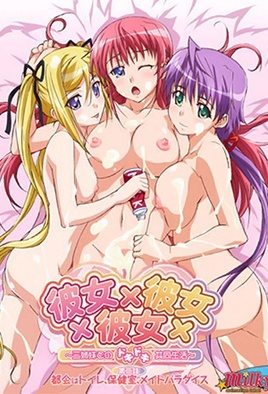 Kanojo x Kanojo x Kanojo: Sanshimai to no DokiDoki Kyoudou Seikatsu
Haruomi Shiki's peaceful life on a small island was shattered when a volcano erupted and destroyed his home. He goes to stay with a relative, where he meets the sexy sisters Natsumi, Akina, and Mafuyu Orifushi, who he immediately finds himself attracted to. While staying there, he finds out that the father of the Orifushi household has died, and that Natsumi inherited their ice cream business, MinMin. Their district holds an annual competition involving all ice cream stores, which MinMin always wins. But this year, a new ice cream shop called 101 opens a branch in the district, and they are a competitor that could beat MinMin. On top of that, the quality of the ice cream produced by MinMin has been significantly reduced since their father died. Will they be able to overcome such a handicap? Only time will tell, but with Haruomi helping the sisters with the ice cream shop, and also fulfilling his more salacious desires with them, he will have his hands full in more ways than one!
Rate: Rx - Hentai
Native: 彼女×彼女×彼女~三姉妹とのドキドキ共同生活~
Synonyms: Girlfriend x Girlfriend x Girlfriend
Aired: Dec 25, 2009 to May 20, 2011
Duration: 29 min per ep
Episodes: 3
Score: 7.49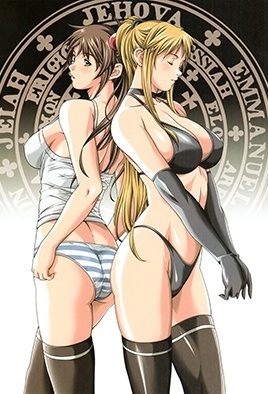 Bible Black
Every school has secrets, but few leave a stain that won't wash out. In a certain school, there was once a fun club centered around magic but had turned into murder and a lust for power. Sealed and willfully forgotten, the resulting evil of that day remained chained in the school's basement. Twelve years later, high school student Taki Minase, while inspecting the place where the incident took place, uncloaks the secret plastered in blood—a book of magic called "Black Bible." Trying his luck with its love curses, he soon finds out the magic proves real and easily penetrates the hearts and bodies of his fellow classmates. The resulting intercourse leaves the student body very vocal, and Minase's acts do not go unnoticed. What was at first a simple stroke of curiosity becomes much larger and harder to control. Fully swallowed by the unshackled darkness, everyone he knows becomes a victim, including his childhood friend Kurumi Imari. Torn apart, Minase finally realizes his mistakes and that he must reverse them in time if he ever hopes for him and Imari to come together.
Rate: Rx - Hentai
Native: バイブルブラック
Synonyms: Bible Black: Night of the Walpulgiss
Aired: Jul 21, 2001 to Jun 25, 2003
Duration: 28 min per ep
Episodes: 6
Score: 6.57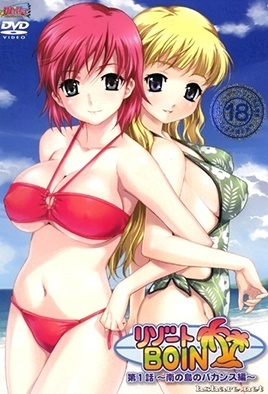 Resort Boin
Daisuke Ichijou goes on vacation to his grandmother's beach resort. As he arrives, he admires the beautiful beach and even more beautiful ladies on it. Soon, he decides to start having fun "his own way." He encounters many girls who will make this vacation unforgettable, including his old friends, the playful Nao Ihara and the wealthy Mitsugu Tsukushino, who proceed to compete over him. Daisuke also meets his cousin Maya Koromogae and her clumsy friend, Momona Amamiya. There are Kanae Shinjou and Mika as well, who also happen to "get involved" with Daisuke throughout his vacation. These six girls will be responsible for making Daisuke's vacation intense, fun, and unforgettable. As they put Daisuke in many complicated situations, he finds that they often lead to passionate erotic activities.
Rate: Rx - Hentai
Native: リゾートBOIN
Synonyms: RESORT BOIN
Aired: Dec 25, 2007 to Apr 25, 2009
Duration: 30 min per ep
Episodes: 3
Score: 7.3