Share Hentai PD
to your friends
TRAP Animes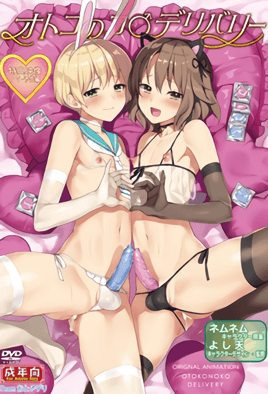 Otokonoko ♂ Delivery
Shuuji finds out his classmate takes on a job as a crossdresser and gets interested in joining him.
Rate: Rx - Hentai
Native: オトコのコ♂デリバリー
Synonyms: Otokonoko Delivery, OtoDeli
Aired: Dec 31, 2016
Duration: 18 min
Episodes: 1
Score: 5.78
Otome wa Boku ni Koishiteru
Mizuho can't believe his ears when Grandpa's will is read out. Grandpa's final wish is for Mizuho to attend the same academy as Mizuho's mother. The catch is it's an all-girls school. With the help of friend Mariya however, he gets a makeover good enough to fool everyone at the academy.
Rate: PG-13 - Teens 13 or older
Native: 乙女は僕に恋してる
Synonyms: Otome wa Onee-sama ni Koi Shiteru, The Maiden is Falling in Love With the Elder Sister, The Maiden is Falling in Love With Me
Aired: Oct 8, 2006 to Dec 24, 2006
Premiered: fall 2006
Duration: 24 min per ep
Episodes: 2
Score: 7.04