Sort By Letters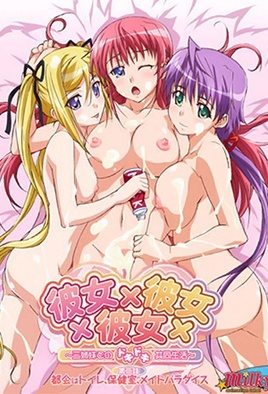 Kanojo x Kanojo x Kanojo: Sanshimai to no DokiDoki Kyoudou Seikatsu
Haruomi Shiki's peaceful life on a small island was shattered when a volcano erupted and destroyed his home. He goes to stay with a relative, where he meets the sexy sisters Natsumi, Akina, and Mafuyu Orifushi, who he immediately finds himself attracted to. While staying there, he finds out that the father of the Orifushi household has died, and that Natsumi inherited their ice cream business, MinMin. Their district holds an annual competition involving all ice cream stores, which MinMin always wins. But this year, a new ice cream shop called 101 opens a branch in the district, and they are a competitor that could beat MinMin. On top of that, the quality of the ice cream produced by MinMin has been significantly reduced since their father died. Will they be able to overcome such a handicap? Only time will tell, but with Haruomi helping the sisters with the ice cream shop, and also fulfilling his more salacious desires with them, he will have his hands full in more ways than one!
Rate: Rx - Hentai
Native: 彼女×彼女×彼女~三姉妹とのドキドキ共同生活~
Synonyms: Girlfriend x Girlfriend x Girlfriend
Aired: Dec 25, 2009 to May 20, 2011
Duration: 29 min per ep
Episodes: 3
Score: 7.49
Kitsune Musume no Ecchi na Oyado
Somewhere in the mountains, a little fox fell into a hunting trap. After lying there for several hours, she was on the verge of life and death. She was rescued by an unknown man (the owner of a mountain hotel), who happened to pass by. Several months passed, the fox's wounds healed and she felt indebted to that person. The fox wanted to repay the man for his kindness and mercy. She took on a human form and began to look for her savior. By smell, the fox found a hotel at a hot spring, which was in charge of the person who saved her. Entering it, she found her savior on his deathbed, he was about to die. His only concern was his hotel and he didn't want to talk about anything else. The fox, before his death, promises that by all means he will save his hotel from closing and restore order there. However, she understood absolutely nothing in the hotel business, and indeed in these human affairs. In search of at least some answer, she decides to search the owner's room. The fox finds a porn book about hot springs and decides to use it as a guide to action…
Rate: Rx - Hentai
Native: きつね娘のエッチなお宿
Aired: Aug 28, 2022 to ?
Duration: 20 min
Score: 6.13